Welcome to TradKA UK. TradKA UK offers you all the facilities to be able to manage your Association effectively.
The Association is a direct member of several leading and major International Association most notably the Federation of English Karate Organisations and the International Okinawan Kobudo Association.
Through these Association TradKA UK is linked to the World Union of Karate Do Federations and the World United Karate Organisation.
TradKA UK's Head of Association serves on the FEKO Executive and the United World Karate - England Limited Board. Several of TradKA's member associations are led by distinguished names in their chosen martial art(s).
TradKA UK offers you Membership of an Association that focuses on quality while at the same time remembering the importance of autonomy.
Membership of TradKA UK is free with minimal single registration costs for individuals.
Although TradKA UK welcomes applications from large clubs/associations it can help smaller organisations whose numbers restrict them from joining some of the larger organisations. TradKA UK provides the same support to these clubs and can then assist and guide them with membership of larger organisations. Obviously quality is of importance and we must work within key policies, a copy of which can be viewed by clicking here.
Tradka UK offers the following for organisations searching for quality:
Insurance,

Certification,

Licensing,

Grade Ratification,Grade registration,

Governing Body Recognition

Djanogly Academy,

Nottingham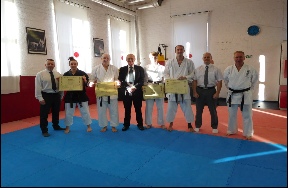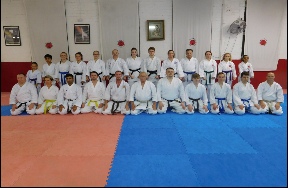 Wonderful students from Sensei Jimmy Kirk's dojo Kazoku No Karate, pressed, pushed, squatted and performed a variety of other activities to raise funds to enable the refurbishment of the second dojo at Kaizen Martial Arts Academy.
As a result Sensei Kirk was able to present a total of £469.50 to Sensei Jim Reece following the TradKA dan grading in Leeds on Sunday 9 December 2018.
Words alone cannot express the gratitude to those students.